Thinkific is an online course platform that allows anyone to create, market, and sell their own online courses. In this article, I will share a complete Thinkific Review (2023).
It was founded in 2012 by Greg Smith and Matt Payne and has since grown to become one of the most popular online course platforms on the market.
Thinkific Review – Features of Thinkific
Thinkific has many unique features to help course creation. Here are the some of the important features
Course creation: Thinkific allows course creators to easily create and customize their courses with a drag-and-drop course builder. You can add various multimedia elements like videos, images, quizzes, and surveys to make your courses engaging.
Custom branding: With Thinkific, you can customize the look and feel of your course website with your brand colors, fonts, and logo. You can also create your own custom domain for your courses.
Site builder: Thinkific offers an easy-to-use site builder that lets you design and create your course website without any coding or design skills.
Marketing and promotion: Thinkific provides marketing tools like email campaigns, discount coupons, and affiliate marketing that help you promote your courses and reach more potential students.
Student engagement: Thinkific offers various tools to increase student engagement, including discussion forums, live chat, and multimedia interactions.
Progress tracking: Thinkific allows you to track your students' progress through your courses, including their completion rate, quiz scores, and more.
Multiple pricing options: You can choose to sell your courses at a fixed price, offer them on a subscription basis, or set up a payment plan.
Analytics and reporting: Thinkific provides detailed analytics and reporting on course performance, student engagement, and revenue.
Integrations: Thinkific integrates with various third-party tools like Zapier, Mailchimp, and Google Analytics to help you streamline your workflow.
E-commerce capabilities: Thinkific provides robust e-commerce capabilities like checkout pages, payment processing, and tax management, making it easy to sell your courses and manage your revenue
Lets discuss about some of the features of Thinkific in detail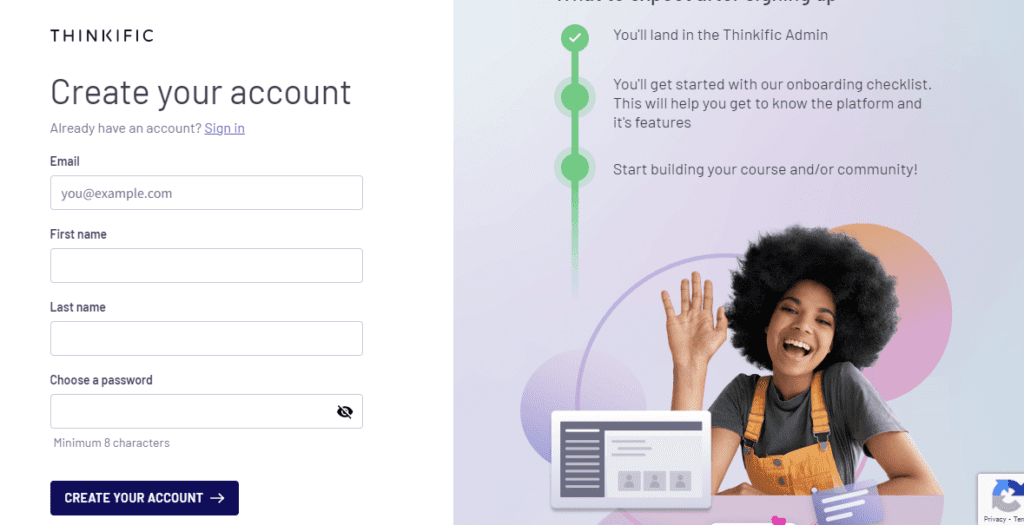 Ease of Use
Thinkific is incredibly easy to use, with a user-friendly interface that makes it simple to create and manage your courses.
The platform uses a drag-and-drop course builder that allows you to easily add and organize your course content. You can also customize the look and feel of your course using the platform's design tools.
Course Creation
With Thinkific, you can create a variety of courses, including video courses, text-based courses, quizzes, and surveys. The platform supports a range of multimedia formats, including video, audio, and PDFs, which means you can create a course that suits your teaching style.
Marketing and Sales
Thinkific makes it easy to market and sell your courses. The platform includes built-in marketing tools, such as email marketing and social media integration, that allow you to promote your courses to your audience.
You can also set up different pricing models, such as one-time payments, subscriptions, or payment plans, to give your customers flexibility when purchasing your courses.
Student Management
Thinkific includes powerful student management tools that allow you to track your students' progress and engagement. You can view student progress reports, communicate with your students via email, and even set up automated emails to remind them of upcoming assignments or course milestones.
Integrations
Thinkific integrates with a range of third-party tools, including payment gateways, email marketing platforms, and Zapier. This means you can connect Thinkific to your favorite tools and automate your workflows.
Pricing
Thinkific offers a range of pricing plans to suit different needs and budgets.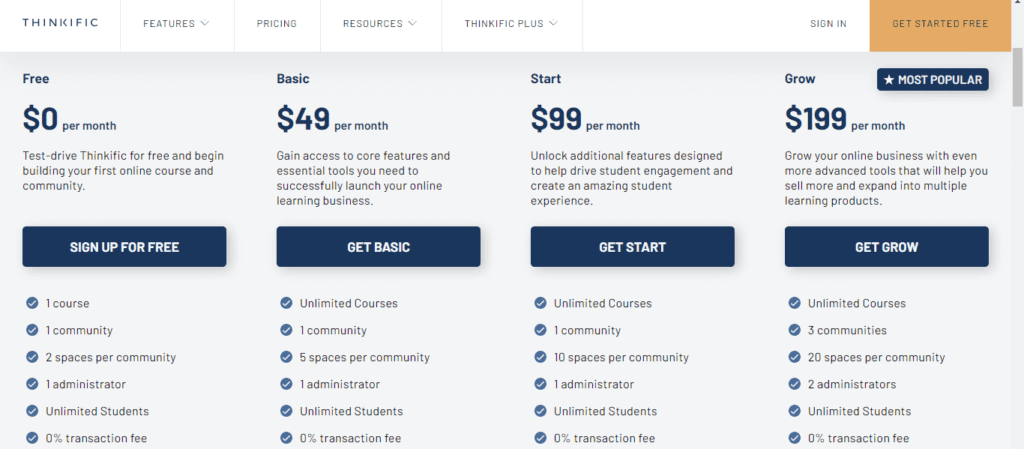 The Basic plan is free and allows you to create up to three courses. The Pro plan starts at $79 per month and includes additional features such as course certificates, affiliate management, and custom domain names.
The Premier plan starts at $399 per month and includes advanced features such as onboarding packages, advanced customizations, and priority support.
Customer Support
Thinkific offers excellent customer support, with a range of resources to help you get started and troubleshoot any issues you encounter. The platform includes a knowledge base, video tutorials, and community forums, as well as email and live chat support.
Pros of Thinkific
User-friendly interface makes it easy to create and manage courses
Wide range of course creation tools and multimedia formats
Built-in marketing tools and flexible pricing models
Powerful student management tools
Integrates with a range of third-party tools
Affordable pricing plans
Cons of Thinkific
Limited customization options for the course player
No built-in course completion certificates for the Basic plan
Limited email marketing automation features
Conclusion
Thinkific is an excellent platform for anyone looking to create and sell their own online courses. The platform is user-friendly, offers a range of course creation tools, and includes powerful marketing and student management features.
With affordable pricing plans and excellent customer support, Thinkific is a great choice for anyone looking to create an online course.
Disclaimer: The above article is for education purpose only. The article may contain affiliate link which mean i may receive commission when you make any transaction without any extra cost to your.