Excellent Communication skill has always been the most demanding skill in professional as well as in personal life. Here, I am talking about both verbal as well as written communication skills.
In this post, I will talk about one of my best friend that played a crucial role in enhancing my writing skills. The Friend is Grammarly. I will share my experience of using Grammarly and why everyone should have it as their companion. I will also share some of the essential features of the tool.
It is like a real-time proof-reader who is always ready to help me with my not-so-excellent language skills. I can't think about writing without this excellent grammar checker tool. Especially for a non-native speaker like me, it is a boon.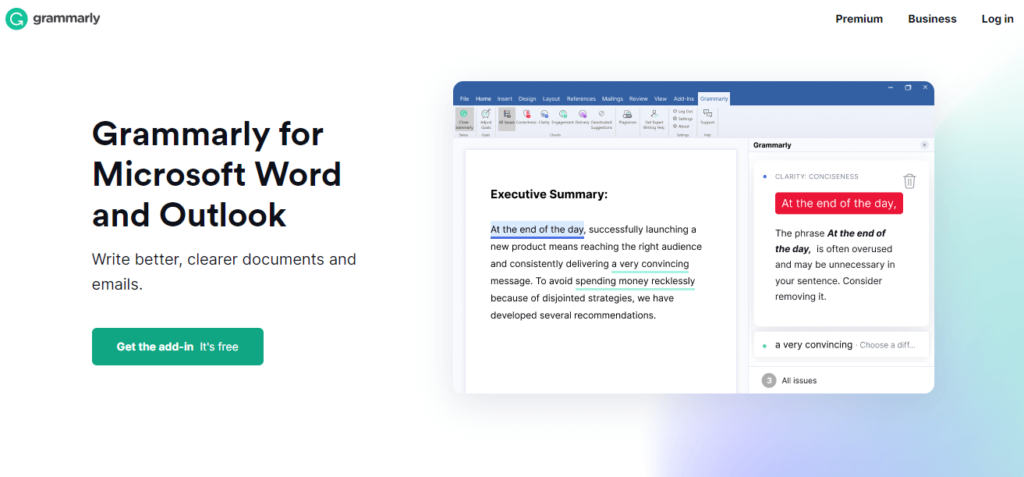 Before we discuss about this in detail, let's talk about key features
Key Features of Grammarly
Ensures Correctness and error-free content writing for everyone.
Provides Clarity and conciseness of sentences with excellent formatting.
Grammarly's Tone Detector modulates the tone of your communication as per the context.
Grammarly's Plagiarism Checker can check millions of pages and ensure that your content is plagiarism-free.
It has support for most of the Third-party integration tools like – Chrome, MS Office, etc.
Grammarly Keyboards is easy to install on your smartphone.
It is challenging to find a person with excellent communication skills, both spoken and written. It is the most scarce quality. While verbal communication is an essential skill for any carrier, I think written communication can be the most productive skill for any organization or company.
In this blog post, I will discuss
Why communication skill plays a crucial role in every walk of our life.
What is the role of an effective tool for enhancing our communication and productivity?
How Grammarly can help to improve our writing skills and become successful content writers.
Alternative to Grammarly.
Why should everyone use Grammarly?
So lets Deep Dive….
Why does communication skill play a crucial role in every walk of our life?
Most of us have a misconception that excellent writing skills are required only for writers or content creators. But that is absolutely wrong.
It doesn't matter whether you are a marketing executive or Digital Marketer or business owner or student, or in any profession; writing skills are a must for everyone.
But sadly, this is the skill you can't learn by enrolling in a course. Writing is a skill that takes time to develop with regular practice.
What is the role of an effective tool for enhancing our communication and productivity?
If you are a non-native English speaker like me, it becomes hard to do justice with your language skills. You always lack self-confidence while writing in a foreign language.
Yes, I Agree that You can hire proofreaders to do the job. But you can't refer every piece of content to proofreaders. Apart from that, you will have to pay a handsome amount each month as a salary.
But there is one tool that will help you gain command over the language, whether it is a grammatical error or contextual usage of words, or plagiarism checking. Grammarly is one such tool that can help you with everything in improving your language skills.
How can Grammarly help to improve our writing skills and become successful content writers?
Grammarly can solve almost all the problems which hinder you from writing great content. You can present your content with confidence.
Lets' discuss the most valuable features in detail:
1. Grammar and spelling Checker by Grammarly
Grammarly's online grammar checker not only checks grammar but also many errors in sentence structures. Most of us were very careful about grammatical mistakes; we generally become ignorant about other errors like- Use of punctuations, tricky misspellings, contextual errors, etc.
A small error in using words out of context and punctuation can change the entire meaning of a sentence. Even native English speakers struggle a lot and can have a hard time perfecting these skills.
That is where Grammarly helps us. It goes beyond the grammar and certainly more than a grammar checker tool. You can quickly rectify tricky misspellings, punctuation errors like using a comma, semicolons, etc., out-of-context words, etc., in sentences.
2. Tone Detector by Grammarly
A great speaker or communicator not only uses the right word at the right time but also modulates his tone as per word and situation. You can not use the same style for every case, like- speaking with your boss or clients or friends or family.
In every situation, we use a different tone. Sometimes we are formal, or sometimes we are casual. Sometimes we are more assertive, and sometimes we prefer to be submissive.
Similarly, Great writing skills are not only about the framing of grammatically correct sentences. It is also about using the right tone at the right time. We can't be casual while talking with clients.
Even English find it very difficult to write in a correct tone as situation demands. But Grammarly's tone detector can eliminate all these problems just with a click of your mouse.
In every hour, millions of digital content are published all around the world. Even if you are original, there is a high chance that similar contents are already available on the web.
Whether you are a content writer or blogger, or publisher, you know very well that plagiarism or content duplication may have dire consequences. Even if it is unintentional, it can land you in grave legal trouble. Further, if
It is very tough to find out whether your content is original or not. Because sometimes even an original content may contain some plagiarism which you can't detect manually.
This is where Grammarly's Plagiarism Checker can help you. With an analysis of billions of web pages, It can find out plagiarism with a click of your mouse button.
Whether you are a professional writer or a student, Plagiarism checker can enhance your content originality and make it unique.
4. Integrations with Chrome, MS Office, Grammarly Keyboards, etc.
Even if there is a great tool, it will lose its significance if you can't use it correctly in your day-to-day work. We use a lot of different third-party tools while creating content.
What I find the most helpful feature of Grammarly is its' wide range of tools. Whether you are using MS Office, Chrome Browser, Writing an e-mail, using mobile Apps, Grammarly can be integrated with almost all applications.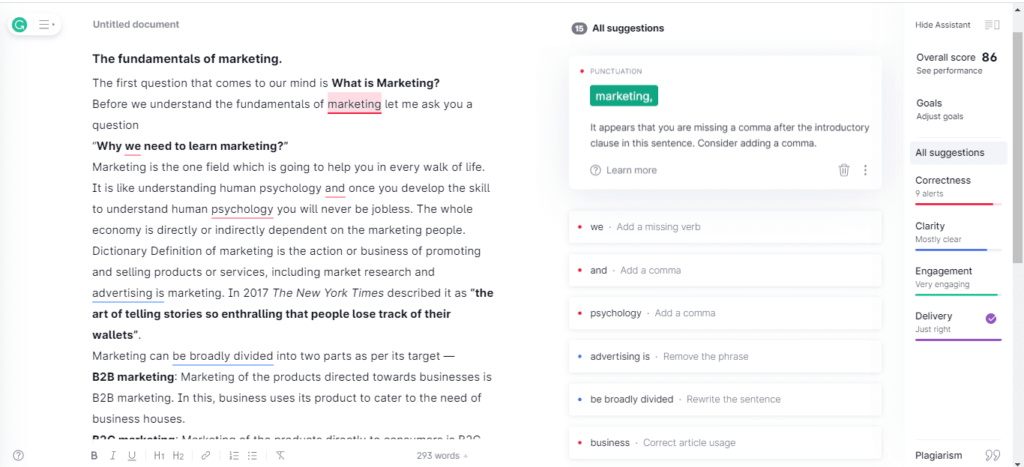 Grammarly for MS Office.
This is the most useful Add-on of Grammarly. We all use MS Office like Microsoft Word for creating documents or Outlook for managing our e-mails. You can directly use the tool by integrating it with MS Office. You just need to download and install Add-on and enable it. Thats' how easy it is.
Grammarly for Chrome
This is my favourite Add-on feature of Grammarly. By installing Chrome extension, you can use Grammarly's features almost everywhere. It is like an online writing assistant for you.
Whether you are posting on social media or writing an e-mail or messaging someone, the extension will guide you continuously to improve your writing.
Grammarly Desktop Apps
If you want a desktop editor for writing perfectly, Grammarly's Desktop App for Window can help you with that. You can download the App for windows and install it on your system. With the help of the desktop app, you can drag and drop any document to Grammarly and do proofreading conveniently.
The Grammarly Keyboard
This specifically helpful while using mobile apps. As we know, Mobile usage has increased tremendously in recent times. This is the reason that Google has preferred a mobile first indexing policy.
We do a lot of communication through mobile apps like Whatsapp, Fb Messanger, etc. The Keyboard can help you to write an error-free message through any of your mobile applications.
Grammarly's Online Editor
The online editor of Grammarly can guide you through perfect writing live. You can directly start writing in the editor. You get an auto suggestion for improving your writing style and make it more professional. The changes can be applied while writing.
Grammarly's Plans
With loads of features for everyone, Grammarly should cost more than 100$/month or more, but that is not the case. If you want to use it only for basic grammatical error detention, it is free to use.
However, if you are more into professional writing, Premium Function is suitable for you. It has both premium as well as free plans.
For individuals, it has two plans, i.e., Free and Premium. While for the Team, it has a Business plan which also a premium plan with many extra features.
Grammarly Free vs. Premium vs. Business
But before discussing the features, lets' look at the Pricing. I am sure you would be interested to know about that:
Lets' look at the features of different plans.
Grammarly's Free Plan
If you only need basic features like- Grammar correction, Spelling Errors, or Punctuation errors, then it is perfectly suitable for you. It is also best to just start with Grammarly and get familiar with the tools.
Features:
Basic Grammatical Error checking.
Spelling Error Checking.
Punctuation Error Checking.
Grammarly's Premium Plan
However, if you are looking for more sophisticated features of Grammarly, then you should go for Premium. In the premium plan, you get advanced features of Grammarly which not only provide advanced grammar suggestions and correct your tone, style, Clarity of sentences, conciseness, etc.
If you are looking for beyond grammar checking, then you should go for premium plan.
Important Features:
Advance tool to detect and auto-suggest grammatical error detection.
Mechanisms to ensure the right tone for the right situation.
Tools to ensure conciseness and Clarity of communication.
Tools to ensure Plagiarism free content writing.
Tools to ensure engagement of readers.
Grammarly's Business Plan
Grammarly's business plan is most suitable for businesses with a team of 3 to 149 members. Here, your can create your style guide and set your company tone. This can help all of your team members while making any communication which saves time for your Team and enhances productivity.
Includes all the features of the premium plan.
Can create Company Specific Style Guide for your team member.
Can assign a specific role to specific people using Grammarly.
Can Create your snippets for repetitive content to save time for Team Members.
Get Your priority support services.
What are the best alternatives to Grammarly?
If you are looking for alternatives to Grammarly, there are many options available in the market. You can try those tools and find out which of the tools are best suited for you.
For your convenience, I am listing out some of the most useful alternatives which you can try out:
If you are looking for the best alternative to Grammarly, then you can use Linguix. It is also one of my favorite writing assistant tools after Grammarly. Linguix also has a free as well as premium plan.
In the free plan, you get basic Writing correction features. In the premium plan, you get all the advanced features like- Paraphrasing tools, Advanced suggestions, Synonyms, etc.
While the monthly plan will cost you $18.95/month, but If you buy an annual plan, you just have to pay $8/month.
Hemingway Apps
If you are looking for free alternatives, then Hemingway App is the right tool for you. While it has premium Desktop Software, you can use it for free using on the website. It has a built-in editor which provides grammar suggestion, sentence structures improvements, etc.
ProWritingAid
ProWritingAid can also be an excellent alternative to Grammarly. It can help you to improve your writing and master the skill. ProWritingAid provides you a lot of in-depth reports to improve your writing.
However, the only drawback is that there is no free plan for ProWritingAid. ProWritingAid's monthly pricing plan starts from $20/month, which is the most expensive.
But if you subscribe to a yearly plan, you will have to pay just $6.58/month, which is very affordable. You can also purchase it lifetime for $399. it can be very cost-effective
Final Thoughts
While there are many tools available in the market for checking Grammatical errors, some of them are also free. I have personally used many of the premium as well as free tools.
But Grammarly is my most favorite tool among all.
Why must you prefer Grammarly over other Tools?
Grammarly is not only about grammar checking. It is much more than that.
It improves your overall content quality and structure.
It enhances your confidence in writing long posts, e-mails, letters, business proposals, etc.
It improves your overall efficiency.
At the expense of just $12/month, it is an excellent deal for everyone. At this minimal price, you get an AI-powered Full-time Proof-reader for yourself. It makes it the most affordable tool for everyone.
Just like a choosing right hosting is very crucial for success in blogging. Similarly, choosing right tool for content writing is also very important for making a blog profitable.
I would recommend you to firstly sign up for Grammarly's Free plan and try it out. Once you like your personal proofreader, You can upgrade it to a premium Version.
With this positive suggestion, I will conclude my article. If you are already using Grammarly's Premium plan or any other grammar checker tool, please let me know your experience in the comment box.
Till then, Best of Luck.
Disclaimer: Some links in the post may contain the affiliate links and we may receive a commission if you click and purchase from our links without any extra cost for you.